Why travel as a group? Well, for starters, if you are traveling in a group of ten or more adults or need 5 or more rooms, there may be cost savings for the group organizer or maybe even for the members of the entire group. Group discounts, promotions, and requirements vary a lot, so give us a call or email for more specifics on your groups' plans to find out what kinds of savings may be available to you. We love to work with groups of all types and sizes for trips to Mexico & the Caribbean and would love to help you set up yours! We are familiar with the benefits that different destinations and hotels throughout these regions offer to different types of groups. Maybe you are planning a destination wedding, a spring break trip, business conference, family reunion, a girls spa getaway, a guys golf retreat or maybe you just want to travel with your best friends on the most memorable all inclusive group vacation of your lives! No matter the type of group, we can help! Best Price and Service Guarantee.
If you are planning a trip to Mexico or the Caribbean for a group, call or email today!
Five Rooms
With Dream Vacations "Groups Your Way" promotion, you travel together, you save together! Perfect for anyone needing 5 rooms or more from anywhere in the US to almost any resort available in Mexico or the Caribbean. PLUS, receive an exclusive discount off each reservation at select resorts when you book your group with one of our travel specialists. So go ahead, take your mother, your brother AND your significant other - our group vacation options allow you the flexibility of traveling together while still getting a vacation experience that's perfect just for you.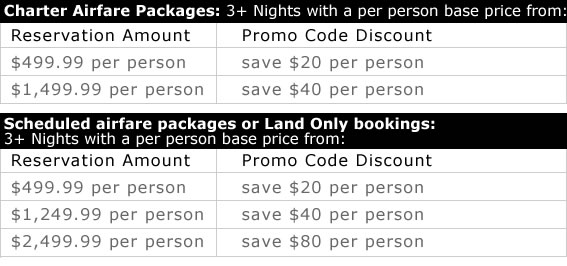 Ten Rooms +
When you have 10 or more rooms traveling together, it's considered a "Traditional Group". Due to the large volume of passengers we bring to our resort destinations, our tour operators have unparalleled buying power to get the best prices and amenities for your all inclusive group. A Traditional Group would require one group leader who will be responsible for gathering the payments and detailed passenger information. When you book together, you'll have special "Group Togetherness" advantages available upon request (based on availability):
What are the benefits of booking as a group vs. individually?
Discounted rates! Book 20 passengers on a charter package, and the 21st passenger gets a FREE air/hotel stay (taxes are additional)
Our specially trained Travel Specialists will assist you in finding a vacation that meets your needs and expectations
You get to work with your individual travel specialist so just one point of contact for your entire group
Designated seating area on the plane *when possible
Rooms located together at your resort *based on availability
Transfers together
Specialty restaurant reservations together *at least one group dinner together
Ease of planning - everything is coordinated for you so you can spend more time relaxing while in the destination
End-to-end customer service including 24-hour travel assistance
On site tour operators on duty daily at most hotels to ensure that your group arrangements go as planned
Possible group discounts on tours and excursions as well as special event planning including meeting and convention arrangements
Weddings
For many wedding "groups," the bride and groom don't want the hassle of directing or managing the entire wedding parties reservation. This is your best choice if you prefer that your guests book on their own, instead of making one large group booking. With Apple Vacations "Destination I Do" program, your guests can travel from different cities, on different dates, for different durations and all save on their trip while earning the Bride and Groom a reduced package price for every guest that attends! This option includes savings for the bride and groom as well as your guests utilizing your group's individual promotional code.
Here's How it Works:
Your experienced travel specialist here at Dream Vacations will provide your wedding party with an exclusive promotional code that will give each adult guest a discounted rate. For every person that books and travels using the promotional code, the Bride and Groom will receive a discount off their all inclusive vacation package as well. Valid on ANY vacation type, with or without airfare reservations for those who are staying at the wedding party's hotel.